Twaalf korte stukjes over het wielrennen door journalist, ex-baas van Le Monde en amateurwielrenner Eric Fottorino. Deeltje in de 2 euro reeks van Folio. Vorig jaar gekocht. Toen was het me net te moeilijk. Nu is mijn Frans blijkbaar op een niveau dat ik redelijk kan volgen wat hij schrijft. De reportage over de Midi Libre van 2001 waarin hij zelf 'meerijdt' (als journalist, met toestemming en met 1 uur eerder vertrek dan de profs) is leuk, verder veel herkenbaars voor wie zelf veel fietst.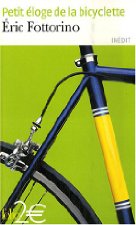 (Ook gegrasduind in een uitgave waar ik in eerste instantie razend jaloers op was – ik had dat boek willen maken – Slipstroom, een kleine geschiedenis van schrijven en wielrennen van Arthur van den Boogaard. Een verzameling mini-essays gewijd aan boeken over wielrennen, van Stijn Streuvels' Mijn rijwiel en Alfred Jarry via Uwe Johnson (lof!) tot Benjo Maso. Ja, mooi, uitstekende keuze. De meeste boeken heb ik gelezen, ook een stuk of 10 voor op de lijst 'te lezen'. Maar Van den Boogaards stijl van schrijven ligt me niet).
0 Comments
RSS for comments on this post.
sorry, the comment form is closed at this time.