Dat kunstenaars op hetzelfde moment hetzelfde idee hebben, dat is niet zo vreemd. Komt vaker voor. Of vaak.
In de eerste helft van 2010 maakte Herman Asselberghs bij V2_ de video Dear Steve, waarin Stan Wannet een Macbook tot op het allerkleinste schroefje demonteert, wat resulteert in een prachtig beeld van alle onderdelen.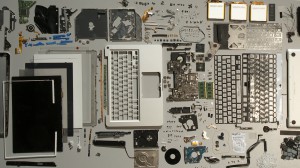 http://www.v2.nl/archive/works/dear-steve
Op de afgelopen Art Basel presenteerde Henrik Olesen een werk waarin alle onderdeeltjes van een Macbook ingepakt een soort schilderij vormen. Verkocht voor 20.000 euro.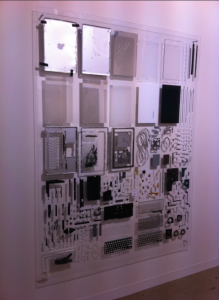 (Foto Boris Debackere)
Rip-off? Open culture? Geïnspireerd? Ik wil niets afdoen aan het werk van Olesen. Het is hoogstens de vraag wat de 'kunstmarkt' eigenlijk betekent.
(Niets? De kunstmarkt is vooral een van de werkelijkheid losgezongen speculatiebubbel. Als het ging om een oprechte ondersteuning van kunstenaars – en dat is soms wel 'ns het geval – waarom steken de kunstkopende kunstliefhebbers dan zo zelden geld in werk dat geen object is, geen handtekening draagt, maar wel onze cultuur aandrijft en betekenis geeft).
0 Comments
RSS for comments on this post.
sorry, the comment form is closed at this time.