Essays van Samuel Delany over SF – de ondertitel van deze 'revised edition' is Notes on the Language of Science Fiction. Uitgelezen? Min of meer. Nog steeds kan ik mijn gedachten er slecht bijhouden als ik lees.
(Uitzondering is The Pale King, dat ik ook aan het lezen ben, maar dat is zo ongeloofelijk goed, en op allerlei indirecte en misschien oneigenlijke manieren pijnlijk om te lezen dat het me niet altijd lukt om me er in te verdiepen).
Daarom probeer ik me maar te ontdoen van boeken die al een tijdje op de stapel 'nog uit te lezen' liggen. Zoals deze Delany. Ik lees graag de opstellen van Delany, om het schijnbare 'schrijfgemak' dat er uit spreekt, om zijn belezenheid en enthousiasme – en als hij te wijdlopig wordt ligt dat nooit aan de stijl. Maar ik ben geen SF-lezer (ja, ik heb Gibson gelezen, Ballard, maar op de romans van Delany na vrijwel geen genregebonden SF), en dus komt Delany in deze bundel vaak op terrein waarin ik weinig interesse heb. Zestig pagina's nauwgezette analyse van Ursula K. LeGuin's The Dispossessed is dan wel heel veel gevraagd. Maar ik weet zeker dat wie ze leest, leert hoe je kunt of moet lezen (of een verhaal schrijven).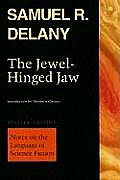 (Andere uitzondering is de theorie en filosofie die ik zou willen lezen, maar die ik natuurlijk alleen als pdf tot mijn beschikking heb. Ik wil juist graag een boek lezen in de zon – in plaats van weer naar een computerscherm te staren).
0 Comments
RSS for comments on this post.
sorry, the comment form is closed at this time.