Treinlectuur, het nieuwe nummer van nY. Met veel meertalige poëzie – (Samuel Vriezen valt aan, en laat in een paar tientallen pagina's zien dat de poëzie de aansluiting met 'het heden' geenszins blijkt te hebben gemist) // een vertaling van Franco Moretti's controversieële/baanbrekende artikel over wereldliteratuur uit 2000, en nog meer lezenswaardigs.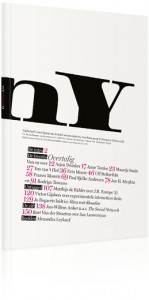 (Meer lectuur: een erg mooi en persoonlijk stuk van Jonathan Franzen in the New Yorker over de roman, Robinson Crusoe, een bezoek aan een vrijwel onbewoond eiland en DFW. Alleen in de digitale editie: http://www.newyorker.com/reporting/2011/04/18/110418fa_fact_franzen. (Vorige week gratis toegankelijk via Facebook als je thumbs up deed voor TNY. Pfff. En nu vast wel ergens anders te vinden) –– waaruit impliciet valt op te maken waarom DFW er wel in geslaagd is om de 'pijn' van het hedendaagse 'Amerikaanse' bestaan te vatten, en Franzen niet – hoe tragisch ook voor David Foster Wallace).
0 Comments
RSS for comments on this post.
sorry, the comment form is closed at this time.