Zonder hoes tweedehands gekocht. The Empty Foxhole is uit 1966, en als deze LP al eens ergens wordt genoemd dan meestal omdat het de eerste opname is van Ornette's zoontje Denardo, en omdat Ornette voor het eerst in de studio trompet en viool speelt. Charlie Haden bast en houdt de boel bij elkaar. Het is allemaal lang niet zo goed als Change of the Century en de andere Atlantic-Ornette platen – en forget about de Town Hall en Stockholm concerts met David Izenzon, die zijn zoveel beter – maar er gaat wel een frisheid van uit die heel aantrekkelijk is. Denardo klinkt inderdaad als een 'kid who's fooling around'. Hij was 10 jaar oud. En nu ik het weer eens luister (The Empty Foxhole is zowat de enige Ornette die voor mij niet digitaal beschikbaar is), valt me niet alleen op dat ik me de stukken wel degelijk heel goed herinner, maar ook dat de onhandigheid en simpelheid hier een kwaliteit zijn.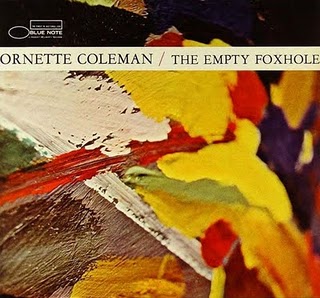 0 Comments
RSS for comments on this post.
sorry, the comment form is closed at this time.