Volledige titel: Elegant Complexity. A Study of David Foster Wallace's Infinite Jest (2007). Geen boek dat je 'uitleest', het is een gortdroog geschreven gids voor IJ, (die stijl past de gids). Heel behulpzaam voor wie zijn weg probeert te vinden in de bijna 1000 dichtbedrukte pagina's van DFW's magnum opus. Gisteravond las ik de samenvattingen van de eerste 15 hoofdstukken en dat was een goede manier om me de leeservaring van IJ te herinneren. De websites over DFW zijn excellent, maar een boek doorbladeren ontspant meer.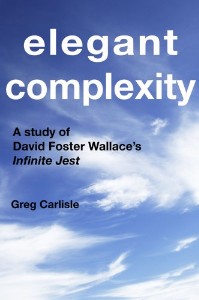 1 Comment
Hé Arie, deze week staat in de New Yorker een erg goed stuk van Jonathan Franzen, waarin hij diep ingaat op de dood van DFW en de nasleep ervan. Ik was buitengewoon geraakt door het artikel, al heb ik van beide schrijvers nog geen werk gelezen. Heel oprecht en zelfanalytisch.
Groet, Nickel
RSS for comments on this post.
sorry, the comment form is closed at this time.