Shepp. Voor mij een 'acquired taste'. Naar het werk tussen 1962 en 1969 heb ik lang nauwelijks geluisterd, ik denk dat ik op tape alleen Ascension had en de opnames met Cecil Taylor. Pas later hoorde ik de Impulse platen. Oh en ik heb ergens een goedkope Italiaanse LP met Shepp anno 1975, maar die heb ik nauwelijks gedraaid.
(Ik was er bij toen Mengelberg in 1987 om een uur of half drie 's nachts in het BIMhuis korte metten met Shepp maakte nadat het Shepp (sax knetterhard van drie kanten over de PA) had bestaan om Curtis Clark achter de vleugel weg te sturen (wegens te impressionistische harmonische opvattingen?), zelf plaatsnam en didactisch vier-in-de-maat de akkoordjes van het thema ging pompen. Mengelberg kwam aansjokken met een kopje koffie. Keek verbaasd naar Curtis Clark, praatte even met hem, en schoof gezellig naast Shepp op het pianobankje aan. Shepp wist niet hoe hij het had. Pling. Mengelberg speelde netjes mee. Plonk. Boing voor Shepp langs. Shepp droop af naar de saxofoon. Soleerde lang. Mengelberg begeleidde netjes en pestte wat tussendoor. Tot het einde, Shepp haalde de sax uit zn mond, haalde adem voor een coda, zet de sax weer aan zijn mond en Mengelberg klapt knetterhard drie keer met de pianoklep. Sax valt Shepp uit de mond. Luid applaus. Mark Dresser baste die nacht, was Gerry Hemingway de drummer? Ik denk het wel. En ik meen dat Braxton ook op het podium stond. Het was een onaangekondigd concert, deel van de Oktober Meeting en Shepp deed alsof hij de saxofoon-god was, of de enig werkelije opvolger van Ben Webster en Coleman Hawkins (wat ie in zekere zin ook is). Er was geen sound check geweest en tijdens het eerste stuk liet Shepp nogal ongenuanceerd zijn microfoon drie keer zo hard zetten zodat zijn saxofoongeluid je van alle kanten tegemoet kwam. Wat ik me nog herinnerde was dat Shepp uiteraard Braxton kende, maar geen idee leek te hebben wie Hemingway en Dresser waren, laat staan wie die twee waren die elkaar op piano afwisselden.)
Heb nooit gehouden van Shepp's saxofoon-aanpak. Maar zijn freejazz werk is wel degelijk indrukwekkend. De afgelopen jaren heb ik een en ander aan live concerten uit eind '60, begin jaren '70 gedownload die echt meeslepend zijn. Yasmina, A Black Woman is een van de BYG-platen die in 1969 in Parijs werden opgenomen. Mijn exemplaar is een goedkope Portugese persing die navenant klinkt. Eerste kant freejazz, kant twee standards. Kant één is vooral Shepp, Shepp, Shepp. Lester Bowie, Arthur Jones, Clifford Thornton en Roscoe Mitchell zijn alleen in de ensembles te horen. Aardigheidje is de aanwezigheid van Hank Mobley in Sonny's Back, die fietst er fijn doorheen, maar met Malachi Favors en Philly Joe Jones als ritmetandem wil dat ook wel natuurlijk.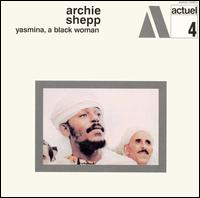 0 Comments
RSS for comments on this post.
sorry, the comment form is closed at this time.