Bootstrappers is Elliott Sharpe samen met het fenomenale ritmetandem van The Minutemen en Firehose: Mike Watt en Geoff Hurley. Live was dat wel genietbaar, gewoon omdat het spel van Watt & Hurley genietbaar was. De LP komt uit de ramsj, en was niet voor niets in de ramsj terecht gekomen. Het is gewoon niet zo goed. Sharpe pielt en scheurt met zijn MIDI-gitaar (en basklarinet?) over de stevige ondergrond van Watt & Hurley, en c'est ca. Het komt niet echt bij elkaar. De aanpak is te simpel, ook voor 'improvised songs'. Toch is het een stuk beter dan de dingen die Sharpe later maakte. Watt en Hurley hoor ik liever bij The Minutemen. Misschien dat het in 1989 als een uitvloeisel van de No Wave werd gezien? Objectief gezien zijn er vast wel wat positieve dingen over te zeggen, maar ik vind het vrij vervelend om naar te luisteren.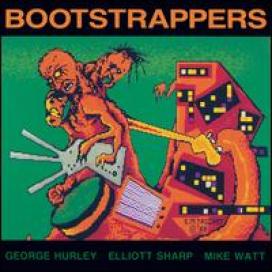 0 Comments
RSS for comments on this post.
sorry, the comment form is closed at this time.