Ik pak de minder voordehandliggende LPs uit de kast. Wayne Horvitz No Place Fast is een afgeschreven exemplaar afkomstig uit de Amsterdamse bibliotheek. Waarschijnlijk 1 gulden voor betaald en niet vaker dan 2 keer naar geluisterd. Opnames uit 1979, quiet impro, een suite-achtig stuk en ook vooruitwijzingen naar Horvitz' The President en het werk van Bobby Previtte. Robin Holcomb speelt piano en elektrische bas, zingt niet. Verder met de mij onbekende Mark Edward Miller, Carolyn Romberg en David Sewelson. Geen meesterwerk, maar het bevalt me beter dan verwacht. Er is een eigen signatuur. (Ik ben benieuwd wat ik nu van Horvitz werk uit de jaren tachtig vind, ooit hield ik er erg van, ik kan me voorstellen dat ik het nu vreselijk vind).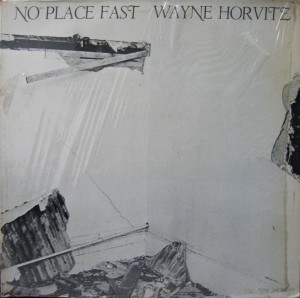 0 Comments
RSS for comments on this post.
sorry, the comment form is closed at this time.