De zon schijnt, misschien dat gitaarmuziek nu goed valt. Nog een oude LP, John Williams speelt het gitaarconcert opus 67 van Malcolm Arnold en het eerste gitaarconcert van Leo Brouwer, met de London Sinfonietta. Opnames uit 1977.
Het stuk van Malcolm Arnold heeft een paar fraaie passages in het langzame deel, en de gitaarpartij is mooi geschreven. De snellere delen vertonen een soort quasi-klassiekerige filmmuziekesthetica die ik onverteerbaar vind – het eerste deel vind ik onluisterbaar.
Leo Brouwer is zonder twijfel mijn favoriete gitaarcomponist. Zijn concert voor gitaar en klein orkest lijkt vooral een bewerking van motieven uit zijn briljante solostukken en dat pakt een stuk minder goed uit. Gitaar plus. Stukken vooruitstrevender dan Arnold, maar het gebruik van destijds vooruitstrevende compositiemethodes voor de orkestscore is 'volgens het boekje' – wat overigens betekent dat er best wat te genieten valt (hmm, heel fraaie zachte passage met bijna-drone voor trombone en strijkers (?)). Ik prefereer Brouwer voor gitaar solo. Hij denkt vanuit de gitaar en komt zo tot prachtige resultaten. Ik ken geen componist die hem dat nadoet of heeft nagedaan.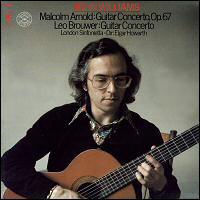 0 Comments
RSS for comments on this post.
sorry, the comment form is closed at this time.