Dubbel-LP waarvoor ik, als ik het me goed herinner, de volle prijs heb betaald. Historische live-opnames. Veel naar geluisterd, ook al klinkt de ritmesectie op veel tracks als ongenuanceerde tweekwartsklop en was JATP een veredelde jamsessie. Met Coleman Hawkins, Buck Clayton, Willie Smith, Dizzy Gillespie…. Electrifying indeed.
De werkelijke aantrekkelijkheid van deze muziek ligt in de ontmoeting tussen Bird & Pres. Lester Young op z'n aller-allerbest, en Charlie Parker in een swing-context waardoor des te beter te horen is hoe radicaal, vernieuwend en adembenemd de weg is die hij is ingeslagen. Dat kun je nog steeds voelen. Hij fietst er dwars doorheen, alsof een nieuwe dimensie zich ontvouwt. (Dat wonder, dat iets van 50 of 65 jaar geleden nog steeds 'fris' kan klinken).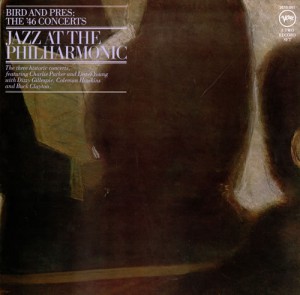 http://www.jazzdisco.org/charlie-parker/discography/session-index/#460128
0 Comments
RSS for comments on this post.
sorry, the comment form is closed at this time.