Ik heb een tijdje klassieke gitaarmuziek op vinyl gekocht. Ver in het cd-tijdperk, tweedehands, zo lang het maar een paar gulden per plaat was, liefst Renaissance of twintigste-eeuws. Dit is een opname uit 1978 van John Williams die stukken van Ponce (1882 – 1948) speelt. Had er jaren niet naar geluisterd, ben altijd gecharmeerd geweest van de stukjes van Ponce (die tot de top van de gitaarliteratuur horen), maar had nu toch even nodig om er echt in te komen. Harde wind, klepperende deuren en goederentreinen; niet helemaal weer en tijdstip voor klassiek gitaar. Klassiek gitaar is iets voor de vroege ochtend. Ik heb ergens een cassettebandje met andere uitvoeringen van deze stukken, die heb ik altijd beter gevonden. Soms lijkt het alsof je de stukken net iets vloeiender of ritmischer kunt (moet) spelen dan deze interpretatie van Williams.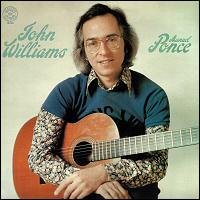 0 Comments
RSS for comments on this post.
sorry, the comment form is closed at this time.