Het nieuwste boek van Arjen Mulder, zeg maar het vervolg op Understanding Media Theory, en waar dat boek de nadruk legde op het schrift en literatuur, ligt de nadruk nu op de beeldende kunst en de ontwikkeling van schilderkunst via conceptuele kunst naar interactieve kunst. Alberti, Michelangelo, Kandinsky, Mondriaan, Klee, Kaprow. Ik heb het veel te snel gelezen – ik had er eigenlijk geen tijd voor, wilde toch het boek in één keer 'veroveren'. Ik ken Arjen, ik volg zijn werk sinds Het buitenmediale, ik beweeg me regelmatig op hetzelfde terrein als hij, voel me daardoor een aangewezen persoon om zijn nieuwe boek te 'close readen', en terug te schrijven. Precies dat lukt me nu niet… Also because I think I would like to take issue with him on a couple of things :-) Het is weer een typisch Arjen-Mulder-boek, in z'n voorkeuren (Warburg over de Hopi) en verbinden van biologie en kunst.
Wel aandachtig gelezen: het laatste hoofdstuk waarin hij de connectie tussen de ontwikkeling van de biologie en de kunst uitlegt. Erg goed.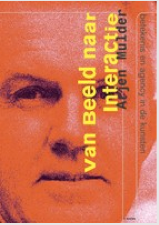 Nederlands: http://www.v2.nl/publishing/van-beeld-naar-interactie
Engels: http://www.v2.nl/publishing/from-image-to-interaction
0 Comments
RSS for comments on this post.
sorry, the comment form is closed at this time.