Gisteren in de trein op weg naar en terug uit Rotterdam de laatste hoofdstukken uit Richard Sennett's The Craftsman (2008) gelezen, en uitgelezen. Helder betoog, en heel belangrijk als herwaardering van de intelligentie van de handen, de methodologie van het goed maken en de werkplaats. Dat gaat niet alleen over 'handvaardigheid', maar ook over het vakmanschap van software-schrijven, ruimte vormgeven, de overdracht van kennis, enzovoorts. Sennett is ervan overtuigd dat iedereen kan leren om dingen 'goed' te maken of te doen, omdat die vaardigheid een oorsprong kent in het spelen (wat kinderen doen). Daarin volgt Sennett de opvattingen van Dewey – en ik ben het volledig met hem eens. "Craftsmanship names the basic human impulse to do a job well for its own sake, and good craftsmanship involves developing skills and focusing on the work rather than ourselves." Enige minpuntjes: het hoofdstuk over koken en recepten boeide mij minder en zijn weergave van de ontwikkeling van Linux en open source software-ontwikkeling is niet helemaal correct. Andere delen zou ik onmiddellijk als lietratuur opgeven, mocht ik op een kunstacademie lesgeven.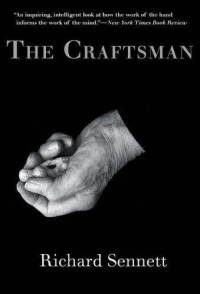 Recensie: http://www.guardian.co.uk/books/2008/feb/09/society/print; feature: http://www.guardian.co.uk/books/2008/feb/02/featuresreviews.guardianreview14/print.
0 Comments
RSS for comments on this post.
sorry, the comment form is closed at this time.