Nee, denk niet dat ik alle essays in het boek Fate, Time, and Language. An Essay on Free Will (2011) heb gelezen. Het is onder de auteursnaam David Foster Wallace (1962 – 2008) verschenen omdat p. 141 – 216 het titelessay bevatten. Het is DFW's 'undergraduate honor's thesis', geschreven in 1985, rond dezelfde tijd als zijn romandebuut The Broom of the System.
Het boek bevat behalve DFW's briljante (ik citeer de flaptekst) kritiek op Richard Taylor's "Fatalism"-artikel uit 1962, ook Taylor's originele artikel en alle belangwekkende kritieken en commentaren die daarna zijn verschenen. Ik ga dat niet allemaal lezen, het is niet mijn filosofische 'pakkie-an'. DFW's artikel is behoorlijk technisch en hij ontwerpt zelf een 'situational physical modality' om zijn argument hard te maken.
Wel gelezen: James Ryerson's uitstekende introductie: "A Head that Throbbed Heartlike. The Philosophical Mind of David Foster Wallace".
DFW's thesis bevat – afgaand op de introductie, wat heen en weer bladeren, hier en daar wat lezen – allerlei elementen die licht werpen op de filosofische 'positie' die hij later in zijn romanwerk neerzet. Voer voor hardcore DFW-onderzoekers, en wie weet, ook filosofen?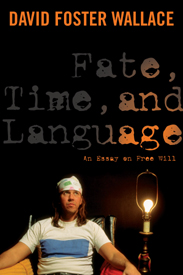 0 Comments
RSS for comments on this post.
sorry, the comment form is closed at this time.