Volledige titel: Sinister Resonance. The Mediumship of the Listener (2010). Een verzameling essays waarin David Toop onderzoekt hoe het luisteren wordt gepresenteerd in beeldende kunst en literatuur – het is meer een boek over beeldende kunst (Vermeer, Muñoz, Nicolaes Maes) en literatuur (19e eeuwse horror, 20e eeuw modernisme), dan over geluid. Of, zo u wilt, het is een culturele geschiedenis van de afbeelding van het luisteren.
Een persoonlijk toets karakteriseert Toops nauwgezette onderzoek naar wat luisteren is. Zijn denken over geluid (als 'haunting') en luisteren wordt geïnformeerd door zeer persoonlijke luisterervaringen; het gaat van kunst waar Toop de afgelopen jaren naar heeft gekeken, de boeken die hij voor het slapengaan las, zijn herinneringen aan luisterervaringen.
Toop is een groot luisteraar en denkt precies en diep na over geluid, maar wanneer hij schrijft over beeldende kunst is hij soms net te veel aan amateur-kunsthistoricus, wanneer hij schrijft over literatuur, vooral een liefhebber, geen literatuurwetenschapper. Ik vond dat geen probleem, evenmin als het feit dat het boek soms een aaneenrijging van verzamelde observaties over luisteren lijkt te zijn. Wel werd ik benieuwd naar wat Toop over Joyce, of over FW – waarover hij niets zegt – zou hebben geschreven als hij Derek Attridge's studies had gelezen.
Sinister Resonance is onmisbaar voor iedereen die geïnteresseerd is in geluidsstudies, die nadenkt over wat luisteren is, of die zich afvraagt hoe een geschiedenis van het luisteren te construeren valt…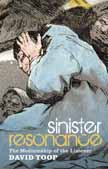 0 Comments
RSS for comments on this post.
sorry, the comment form is closed at this time.