A really late announcement, in two hours from now Oorbeek will do an acoustic concert to celebrate the release of the Ombromanie dvd & book, at the Soon Institute, Vijzelstraat 67, Amsterdam: http://www.thesooninstitute.com/tmc/. That is Wednesday December 15th, 18 – 20 hrs.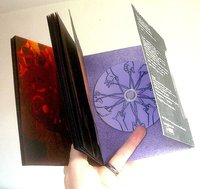 From the Facebookpage (I don't do Facebook):
"Very limited edition book & dvd with 16mm, 8mm, video registrations of oorbeek shadow performances in Amsterdam and Berlin.
small party with accidental music, ignored drinks, projections"
0 Comments
RSS for comments on this post.
sorry, the comment form is closed at this time.