Dreigende buien, flinke noordwestenwind en soms zon. Koud, of het voelde koud. 16.30 – 18.50. Het werd een race tegen de klok – ik moest tussen 7 en half 8 in West zijn, en was net te ver gereden (of te langzaam). Was lang niet bij Naarden Vesting en Valkeveen geweest, maar het stukje Naarderbos bevalt niks, is lelijk, en spiegelglad nieuw fietspadasfalt verandert daar niets aan.
Marcusstraat – Diemerpark – Muiden – Muiderberg – Naarderbos – Valkeveen – Oud Valkeveen – Naarden Vesting – Naardermeer – Ton Storkpad – Vecht – Weesp – kanaal – Marcusstraat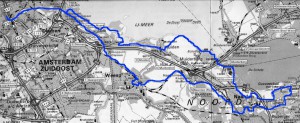 0 Comments
RSS for comments on this post.
sorry, the comment form is closed at this time.