Vijf dagen fietsen in de Eifel. Mijn enige kans dit jaar op wat klimwerk. Eigenlijk had ik gehoopt om met Cycletours een weekje naar het Schwarzwald te gaan, maar die reis ging niet door. Ik boekte daarom in mn eentje 4 nachten in een hotel in Gerolstein. Eind april… De weken daarvoor was het schitterend weer en ik zag het al voor me dat ik 5 dagen pisregen zou hebben. In april kan het spoken in de Eifel. Ik maakte me druk om de aanreis: met de trein naar Maastricht om dan met wat kilo's bagage op de rug naar Gerolstein te rijden – eigenlijk net te ver, zeker als je pas om 12 uur 's middags kunt beginnen. (Vanwege de 9 uursgrens voor fietsen meenemen in de trein).
Alles zat mee. Ik kreeg 5 dagen perfect fietsweer – was zelfs gedwongen om met lange mouwen en beenstukken te rijden omdat ik mn op de 2e dag verbrande armen en benen niet de volle zon wilde (kon) tonen. (Wel hand- en overschoenen mee maar geen zonnebrand).
De eerste etappe was Maastricht – Gerolstein. Aankomst met de trein even voor de middag, de zon scheen, het was wel aan de koude kant. Ik had niet meer in Limburg gefietst sinds mn vertrek uit Kanne, eind 2006. Ik was benieuwd hoe het zou zijn. Het was vertrouwd, bijna te vertrouwd. Maar het deed me weinig en eerlijk gezegd wilde ik het liefst hard doorfietsen: op tijd (voor 8 uur) in Gerolstein aankomen. Ik wist niet exact hoe ver het zou zijn. Googemaps rekende een erg optimistische 110 kilometer uit, maar precieze bestudering van de kaart leerde dat dat niet kon kloppen; ik gokte op 135 of zelfs 145 (voor de zekerheid), ook al omdat ik niet wist hoe druk de wegen zouden zijn. Ik ging ervan uit dat vrachtverkeer me wel eens naar de 'mooie' wegen zou kunnen dwingen. Mijn plan was om rechtstreeks over de grotere wegen naar Gerolstein te rijden. Met zo min mogelijk extra hoogtemeters. Over Margraten, de Plank, Henri-Chappelle naar de Botrange, en dan over Losheimergraben en Stadkyll door het dal van de Kyll naar Gerolstein. Tot Sourbrodt kende ik de mooie wegen toch al. Wat bleek: het stuk in Duitsland is een (soms erg) drukke weg, met veel vrachtverkeer, alleen ging bijna al het verkeer de andere richting uit. De heel route ging derhalve 'van een leien dakje' en ik was nog voor 6 uur in Gerolstein. Alleen voorbij Sourbrodt moest ik even stoppen om een blikje te drinken en een ijsje te eten omdat ik even stuk zat.
Maastricht – Banholt – Reijmerstok – De Plank – Henri-Chappelle – Limbourg – Goe – Barraque Michel – Botrange – Sourbrodt – Büllingen – Losheimergraben – Stadkyll – Junkerath – Gerolstein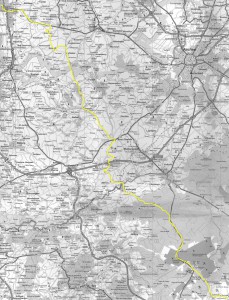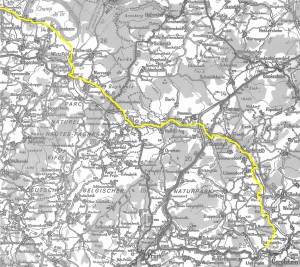 0 Comments
RSS for comments on this post.
sorry, the comment form is closed at this time.