Dooi, zon en sneeuwresten. Ik ga het toch proberen, dacht ik, de grotere wegen zijn vast sneeuwvrij. En reed, ah, toch langs de andere kant langs de Amstel, en dus – omdat de Ouderkerkerdijk onder sneeuw en ijs lag – over het fietspad richting Duivendrecht. Een paar slechte passages met sneeuwresten, een klein stukje echt gladde platgereden sneeuw, maar vervolgens een prachtig schoongeveegd fietspad langs de snelweg, en tot mijn verbazing was het weggetje langs de Ouderkerkerplas ook prachtig schoon. Kon lekker doorrijden. Tot ik bij de Holendrechterweg kwam: sneeuw. Eigenlijk niet te doen. Reed door in de verwachting dat de weg langs de Amstel schoon zou zijn. Mooi niet. Omgekeerd. Teruggekeerd. Dan langs de Burg. Stramanweg. Een doorgaand fietspad, dus schoon? Halverwege een paar honderd meter lang sneeuw en glad. Terug langs de brede zijde van de Amstel. Het laatste stuk, vlak voor de stad, was helemaal niet schoongemaakt: spekglad en daar glibberde ik overheen met mn racefiets. Het was meer een oefening in balans, voor de rugspieren, dan een fijn stukje fietsen. Was ik, zoals ik van plan was, andersom naar Ouderkerk gereden, dan zou ik al na 10 minuten weer thuis zijn geweest. Omdat er eigenlijk niet met de racefiets te rijden viel.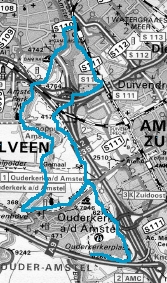 2 Comments
Oppassen geblazen. Afgelopen vrijdag reed ik op mijn snelle fiets terug naar huis en ging onderuit bij de spoorwegonderdoorgang tussen de Weesperzijde en de Wibautstraat, richting Ringdijk. IJzel in de bocht, onverwacht. Ik landde op mijn kin. Hechtingen en acht gebroken kiezen waren het gevolg. Het is mijn eerste echte valpartij. Ik ben eigenlijk nog steeds verbaasd hoe snel en hard het gebeurt.

[WORDPRESS HASHCASH] The poster sent us '0 which is not a hashcash value.

Pfff. Dat is letterlijk om de hoek hier. Een heel verradelijk stukje. Hoop dat je verder 'okee' bent. Ben zelf 16 jaar geleden eens 200 meter van huis over de kop gegaan en op mijn voortanden geland. Niet dat ik me dat herinner: ik heb bewusteloos op straat gelegen. Het heeft me 2- en een halve tand gekost en 8 hechtingen in mn gezicht. Brrr.
RSS for comments on this post.
sorry, the comment form is closed at this time.