Weekendje Kootwijk. Ik reed er op vrijdagmiddag met de racefiets heen en op zondagmiddag/vroege avond terug. Warm en benauwd zomerweer, 25 graden of warmer. Niet mijn weer.
Op vrijdag reed ik dwars door de Flevopolder en al had ik continu de wind pal tegen: het was een succes. Was het op de dijk al erg rustig, vanaf het Cirkelbos tot vlak bij de brug naar Harderwijk ben ik 2 wandelaars voorbij gereden, heb ik 1 man in een bootje gezien, en 2 boeren met een tractor. Er is mij niet eens fietser tegemoet gekomen, ik ben er niet een voorbij gereden, niemand heeft me ingehaald. En het fietspad langs de Hoge Vaart is best mooi. Eigenlijk beviel rijden op de Veluwe me een stuk minder — maar dat stuk kende ik ook al. Continu dreiging van regen, en dan weer wat zon. Het bleef droog. 98 / 4.10
Marcusstraat – Diemerpark – Muiden – Muiderberg – Almere – Cirkelbos – Kathedralenbos – Hoge Vaart – Hoge Knarsluis – Harderwijk – Hierden – ri Elspeet – Staverden – Uddelermeer – Nieuw Millingen – Kootwijk.
Op zondag reed ik terug. Op vrijdagavond en zaterdagmiddag had het geonweerd en gehoosd. En de weersvoorspelling was identiek voor zondag. Ik waagde het er toch op. Ik heb het droog gehouden — op drie sputters in Voorthuizen na — maar ik heb wel ruim twee uur geracet, en in het begin mijn route gewijzigd, om de bui die steeds achter mijn linkerelleboog hing voor te blijven. Pas voorbij Spakenburg begon het er beter uit te zien. (En prompt reed ik vanaf daar een onlogische route). 87 / 3.25
Kootwijk – ri. Stroe – Oud Millingen – Voorthuizen – Nijkerk – Bunschoten – Spakenburg – Eembrugge – Eemnes – Laren – Spanderswoud – Naardermeer – Weesp – kanaal – Diemerpark – Marcusstraat
(Nu ns een kaartje getekend met behulp van Google. Ik moest anders te veel kaarten scannen. Het kaartje is niet erg secuur, want werken met die interface geeft mij geen plezier).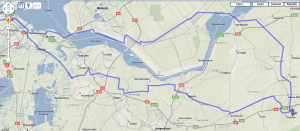 0 Comments
RSS for comments on this post.
sorry, the comment form is closed at this time.