Hemelvaartsdagrondje. Reed pas om 14.00 uur weg, het was nog bewolkt, kwam meteen Loek tegen die terugkwam van een rondje, tien minuutjes staan praten. Dan ns allerlei wegen gereden die ik niet zo vaak rij, of die ik zelfs no nooit had gereden. Door Amstelveen naar De Poel, de (nieuwe?) fietspaden ten noorden van Hoofddorp — toen scheen de zon en eigenlijk is het wel een mooi stukje –, rondjes door het Haarlemmermeerse Bos, het Floriadepark en nog zo'n aangelegde groenzone, en dan het fietspad naar Zwaanshoek (nog geen aanrader). Wilde best via Langervelderslag terug, maar moest (beloofd om 18.00 terug te zijn), via Haarlem. 93 km.
Marcusstraat – Amstel – Amstelveen – De Poel – Bovenkerk – Oosteinderweg – Aalsmeer – Rozenburg – Spaarnwoude/Hoofddorp – Haarlemeermeerse Bos – Geniedijk – Groene Weelde – Zwaanshoek – Vogelenzang -Aerdenhout – Kraantje Lek – Overveen – Haarlem – Veerplas – Halfweg – Lijnden – Schipholweg – Amsterdamse Bos – Kalfjeslaan – Amstel – Marcusstraat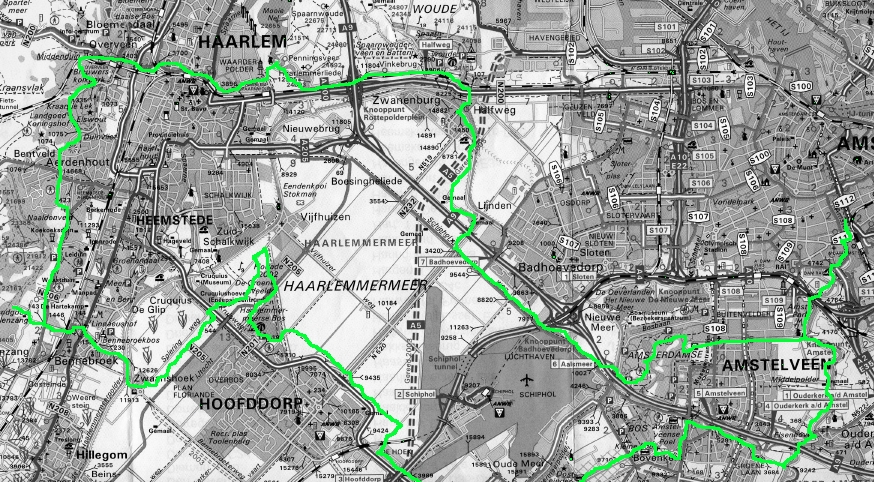 0 Comments
RSS for comments on this post.
sorry, the comment form is closed at this time.