Nog net een uurtje tijd: felle zon, flinke wind, en koud. Scherp licht. 17.15 – 18.20. Reed zoveel mogelijk stukjes die ik niet kende, of die ik meestal oversla: langs Frankedael, langs de Jaap Eden baan, het paadje achterlangs bij station Diemen, de fietsbrug over de Gaasp, het onverharde paadje voor de begraafplaats bij Duivendrecht, de Wenckebachweg.
Marcusstraat – Watergraafsmeer – Diemen – kanaal – Driemond – Gaasp – Duivendrecht – Weespertrekvaart – Marcusstraat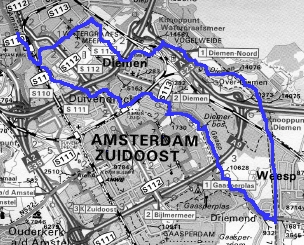 0 Comments
RSS for comments on this post.
sorry, the comment form is closed at this time.