We worden verwend met het herfstweer. Nog wel. Opnieuw een schitterende dag, 12 graden, fikse zuidenwind, onbewolkt en zonnig. 11.10 – 14.30.
(Ik wilde eerder weg, was er om 9.00 klaar voor, maar toen bleek dat F. smiddags weg zou zijn, waardoor we elkaar zo goed als niet zouden zien, wat een uurtje later toch weer niet het geval bleek te zijn, of ik dan niet toch nu = om 11.00 uur zou weggaan voor een rondje, dan konden we smiddags wandelen, wat we deden — het was een perfect rondje, maar achteraf had ik graag nog eens 100 of 120 kilometer gereden).
(Amsterdamse Bos prachtig, de weg van De Kwakel naar Bovenkerk is eigenlijk vrij vervelend, ik rij 'm vrijwel nooit, maar nu eens als afwisseling en met harde zuidenwind goed te doen).
Marcusstraat – Amstel – Kalfjeslaan – Amsterdamse Bos – Schinkelbos – Aalsmeer – Rijsenhout – Burgerveen – Leimuiden – Rijnswaterswoude – Woubrugge – Leidse Kade – Langeraar – Bilderdam – Vrouwenakker – De Kwakel – Noorddammerweg – Bovenkerk – Amsterdamse Bos – Kalfjeslaan – Amstel – Marcusstraat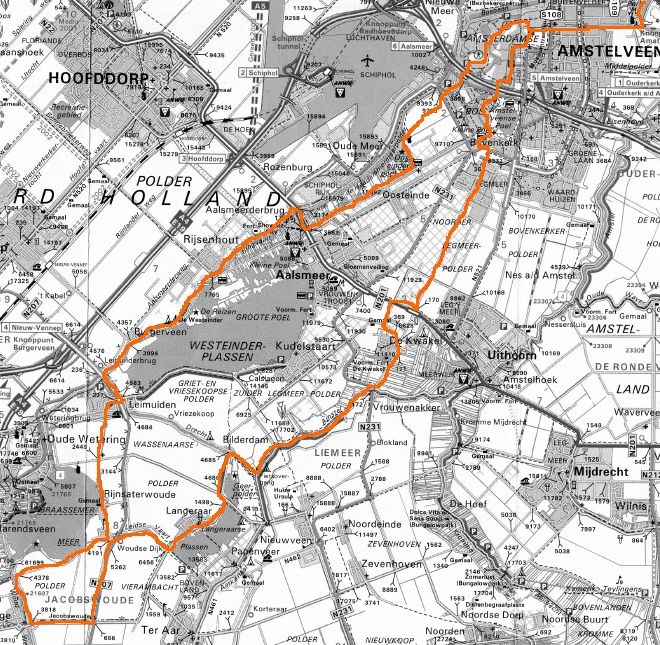 0 Comments
RSS for comments on this post.
sorry, the comment form is closed at this time.