Om eindelijk de benen weer eens echt te voelen en het lichaam te laten weten wat het is om 6 uur op een fiets te zitten wilde ik op zaterdag een lange tocht rijden. De weersvoorspellingen waren ook in het voordeel van in de ochtend wegrijden en halverwege in de middag thuis zijn. Ik wilde eindelijk eens een rondje maken met de Linschoten, Hollandse IJssel, Vlist en Lek. Wel eens tot Oudewater gereden, maar nooit veel verder zuidelijk. Het moest deze dag worden – mits de verkoudheid niet zou opspelen. Om negen uur weggereden, en daarna nergens op een klok gekeken waardoor ik – zomers onbezorgd gevoel – geen idee meer had van tijd. Onder Woerden ken ik bovendien de weg niet en weet ik dus ook niet of een stukje nou tien minuten rijden is, of een half uur. De zon scheen, het werd niet te warm door een fijne zuidoostenwind en pas helemaal aan het einde van de rit kwam de wolkenband (die ik 's ochtends al kon zien hangen) echt dichterbij. De buien begonnen pas toen ik al thuis was. Dat was nog best vroeg (kwart over drie). Ik was het gevoel voor tijd zo erg verloren dat ik toen ik in de buurt van Kockengen op mijn telefoon keek hoe laat het was en 14.00 zag aangegeven staan, ik opbelde om me ervan te vergewissen dat het echt nog maar twee uur was. Het zullen zo'n 150 kilometer geweest zijn. (Ik heb best doorgereden, zeker de tweede helft).
Marcusstraat – Amstel – Ouderkerk – Ronde Hoep Oost – Waver – Wilnis – Wilnisse Zuwe – Kamerik – Woerden – Linschoten – Oudewater – Haastrecht – Vlist – Schoonhoven – dijk langs de Lek – IJsselstein – De Meern (vreselijk zitten dwalen) – Vleuten – Haarzuilens – Portengen – Donkereind – Vinkeveen – Botshol – Waver – Ronde Hoep Oost – Ouderkerk – Amstel – Marcusstraat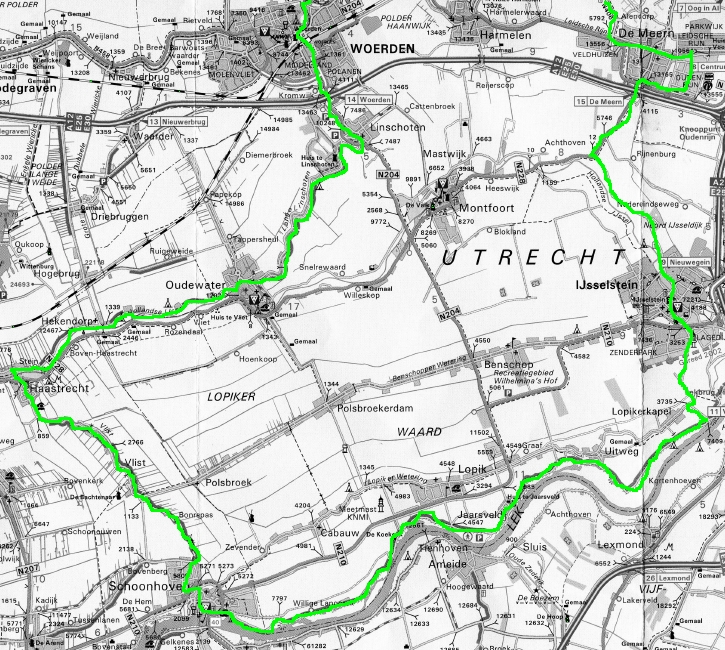 0 Comments
RSS for comments on this post.
sorry, the comment form is closed at this time.