Zondagochtend: het eerste echte ritje op mijn nieuwe racefiets: een zwarte Ger. Heerlijk rijden. Minieme kans op een bui en eenmaal voelde ik een paar spetters, maar dat was alles. Vooral veel zon. Met de wind in de rug vloog ik. Maar ai, bij de voetgangersbrug bij Vrouwenakker deed ik voorzichtig, wipte niet al fietsend tussen de hekjes door, achter me een andere wielrenner, ik zeg tegen 'm "pas op, ik neem even het zekere voor het onzekere, ik stap af". Hij niet. Hij verliest zn evenwicht, komt niet uit zijn klikpedaal en valt tegen mijn achterwiel. "Je had gelijk." Niks aan de hand. Hmm, wat later merk ik dat er een kleine slag in mn wiel zit. Dat hoort erbij zullen we maar zeggen, of het is een doop.
Het is een heerlijke fiets – iets korter dan mijn vorige (die nooit lekker zat), lichter, en wel, gewoon precies de fiets die ik wilde hebben: klassiek, heel strak en netjes op maat gemaakt aluminium frame (Columbus buizen), verder geen poespas (Shimano Ultegra), en met liefde gemaakt.
De reacties van anderen zijn wel grappig. Mijn broer J. had 't goed gezien: "Ah, gewoon een mooi frame met een stel wielen." Anderen zetten grote ogen op als ze horen hoe duur ie was (niet zo duur dus, volgens mij, zeker niet als je het vergelijkt met het materiaal waar anderen op rijden).
Geen fietscomputertje. Dat heeft als grootste voordeel dat je niet de helft van de tijd op je stuur zit te kijken. En je kunt ook nog fijn je handen echt dicht tegen elkaar op het stuur zetten.
Toen ik donderdags bij Ger mn fiets kwam halen was hij juist bezig met de fiets "voor een andere schrijver". Mijn wiel hing even in dat frame: de nieuwe fiets van Tim Krabbé.
Marcusstraat – Amstel – Ouderkerk – Nes – Uithoorn – Vrouwenakker – Noorden – Woerdense Verlaat – Geer – Donkereind – Vinkeveen – Botshol – Waver – Ouderkerk – Amstel – Marcusstraat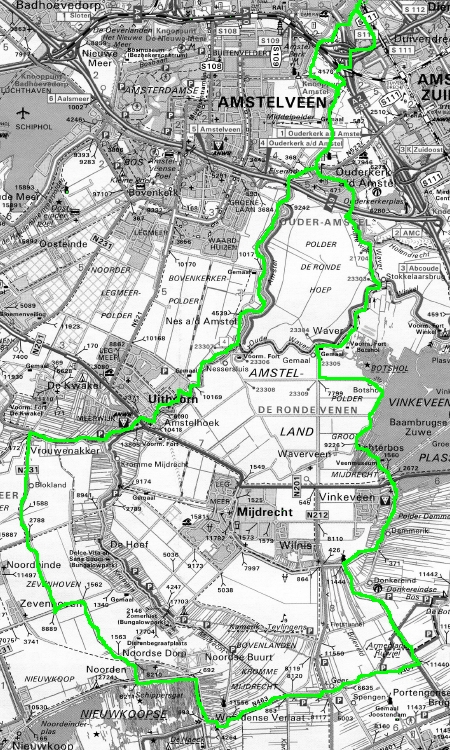 0 Comments
RSS for comments on this post.
sorry, the comment form is closed at this time.