Twee verlangens voor opnieuw een mooie, zomerse dag: een uurtje of twee lekker uitrijden en een rondje Bollenstreek. Een rondje Bollenstreek komt al snel op 100 kilometer. Toch reed ik, speculerend op een draaiende wind (van zuid naar west), door de Haarlemmermeerpolder naar de Bollenstreek. Het eerste deel over de vaste route – die best aardig is. Het tweede deel 'ns via Bennebroek, Zwaanshoek en de Bennebroekerweg, – een slecht idee. De Haarlemmermeerpolder is daar een grote bouwput waar autowegen doorheen snijden. Als je ziet hoeveel nieuwbouw er daar tegen Hoofddorp is aangeplant, vraag je je af waar het verhaal vandaag komt als zou er de afgelopen jaren te weinig nieuwbouw zijn gepleegd. (Opvallend: allemaal grote woningen die veel beslag op de ruimte leggen). De Haarlemmermeerpolder is met tegenwind (de wind draaide niet en was zelfs eerder zuidoostelijk) nog vervelender dan rijden over een bedrijventerrein, waar lelijke kantoren dan in ieder geval nog wat wind wegnemen. In de Bollenstreek was het overigens veel te druk. Dat had ik kunnen weten. Toch wel mooi hoor: die intense kleuren.
Marcusstraat – Amstel – Kalfjeslaan – Amsterdamse Bos – Schiphol – Boesingheliede – Vijfhuizen – Cruquius – Leiduin – De Zilk – Langevelder Slag – Hillegom – Bennebroek – Zwaanshoek – Benebroeker weg – Rijnlander weg – Geniedijk – Rozenbug – Schiphol De Rijk – Ringvaart – Amsterdamse Bos – Kalfjeslaan – Amstel – Marcusstraat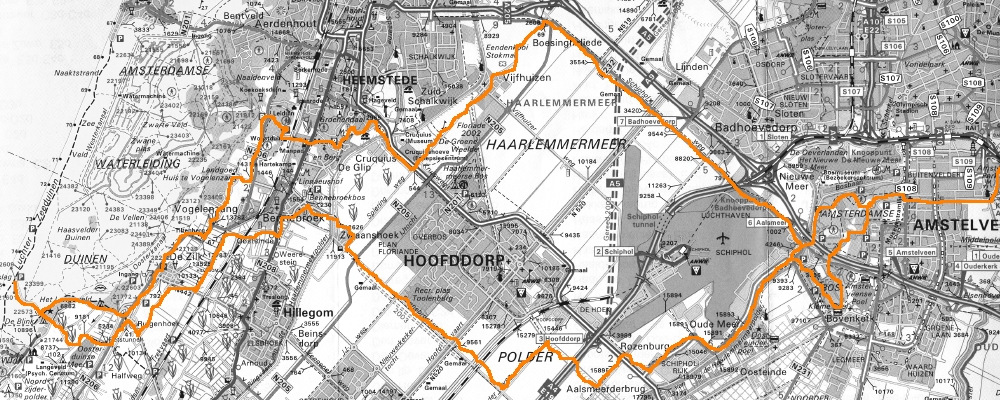 0 Comments
RSS for comments on this post.
sorry, the comment form is closed at this time.