Lenteweer. 3/4 broek, zonder jack, 15 graden, zon. Tussen het werk door, 16.45 – 18.15. Opnieuw via De Hoge Dijk in plaats van over Abcoude, en bij de elektriciteitscentrale weer de fietsknoopunten gevolgd. Daar staat nu een bord dat 'keihard' naar rechts wijst. Huh? Maar daar kun je niet langs? Geen weg. Maar nu wel. Dat wil zeggen: de weg is nog niet af – het is een kilometertje onverhard rijden (ik schat dat de weg met wildroosters over een week of 2 wel af zal zijn), en het maakt de route achterlangs nog aantrekkelijker. Er mag de fietser dan veel worden afgenomen, zo nu en dan krijg je iets terug. (Ik neem aan dat de wandelaar daar weer minder blij mee is).
Marcusstraat – Amstel – Ouderkerk – Abcouder meer – Hoge Dijk – Gein – Driemond – kanaal – Diemer Vijfhoek – Diemerpark – Ringdijk – Marcusstraat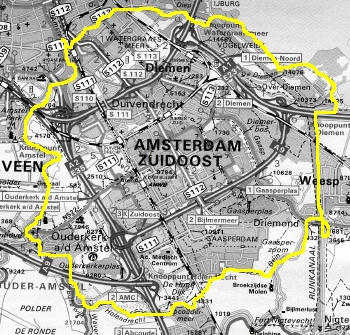 0 Comments
RSS for comments on this post.
sorry, the comment form is closed at this time.