Wat te doen? Een ritje over de Kempen, lekker door het bos en over de heide? Of richting Kanne, daar en rondje rijden over bekend terrein – voor het eerst sinds 2006 terugkeren, en dan vanuit Maastricht terug met de trein? Of zelfs stiekem een klein stukje van de Amstel Gold Race meepikken. Ik kon niet kiezen. Het gebied onder Kanne trok, Maastricht minder. Ik reed 's ochtends eerst door Genk (vreemde, fascinerende tuinstad) richting zuiden, het gebied rond Bilzen (onverhard, door het bos), allemaal wegen die ik ken. Dan, op het plateau bij Gelik uitkijken richting Pietersberg en ik besloot dat ik zin had om lekker over de Kempen te rijden. Weinig zin in het spektakel van de Amstel Goldrace (de toertocht), weinig zin om net die dag de klims rond Kanne opnieuw te doen. Ik kan alle wegen nog uittekenen. De herinnering was sterker dan het verlangen er opnieuw te rijden. Dus door Gelik, de fietsknooppunten volgend over de Mechelse Heide, langs de Zuid-Willemsvaart terug naar Weert. Vanaf As over wegen die ik niet eerder reed. Fijn rijden. Een zonnetje soms, vooral veel wolken, veel wielrenners en groupe, en de heerlijke fietswegen door het bos. 10.15 – 14.30. Intekenen van de route is wat lastig: ik heb de kaart met de fietsknooppunten niet, en mijn verouderde kaart mist de huidige fietspaden over de Kempen.
Genk – Kolderbos – Zutendaal – Munsterbilzen – Eigenbilzen – Gelik – Heiwijk – Maasmechelen – As – Zuid-Willemsvaart – Neeroeteren – Tongerlo – Altweerterheide – Weert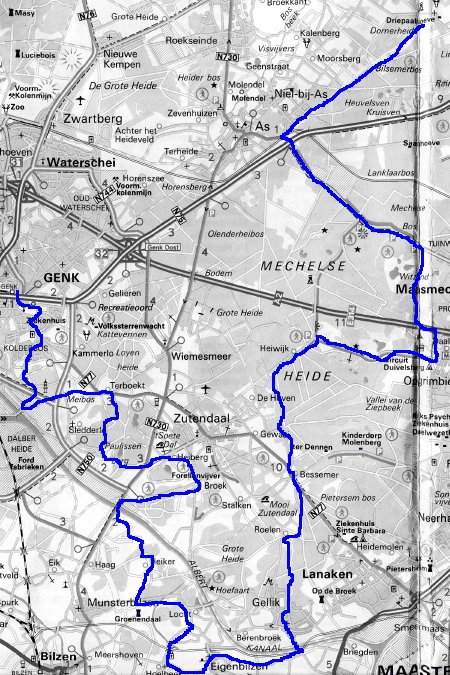 0 Comments
RSS for comments on this post.
sorry, the comment form is closed at this time.