Nog een zonnige, nazomerse oktoberdag. Nog een kortebroekendag, 17 graden of warmer, weinig wind, onbewolkt. Rondje Langeveldseslag, maar bij Lisse rij ik verkeerd en daarna neem ik nog eens niet de optimale route waardoor ik te veel kilometers op de teller zet en steeds het gevoel heb stevig door te moeten rijden om voor donker terug te zijn. Dwars door de Haarlemmermeerpolder gaat tegen 38 a 40 tegen het uur: in het wiel van een jongen die op Sloten rijdt. Ik kan niet overnemen, maar na een stoplicht knoop ik een praatje met hem aan. "Kan merken dat ik niet meer train, ik kan je wiel houden, maar meer ook niet." "Rij je niet op Sloten dan?" Blijkbaar zie ik er nog steeds uit als zou ik iedere zaterdag op Sloten rijden. Hij zegt: "Fietsen is zo mooi. Al die materieële dingen, daar geef ik niet om." Ik kan niet anders dan beamen.
Marcusstraat – Ouderkerk – Uithoorn – Kudelstaart – Westeinder Plassen – Leimuiden – Lisserweg – Lisserbroek – Lisse – ri. Voorhout – Leidse Vaart – Langeveldseslag – De Zilk – Leiduin – Cruquius – Vijfhuizen – Boesingheliede – Amsterdamse Bos – Kalfjeslaan – Marcusstraat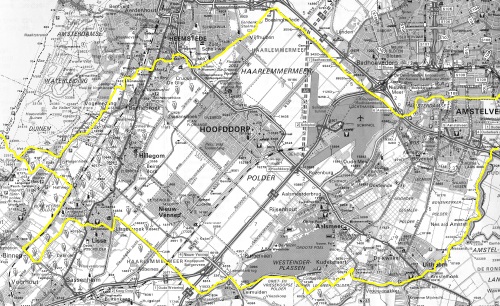 0 Comments
RSS for comments on this post.
sorry, the comment form is closed at this time.