Vertical Cinema Cahier is the third 'Kontraste Cahier', edited on occasion of the 2013 Kontraste festival. This time I only contributed one interview, and did editorial assistance. Mirna Belina was the editor.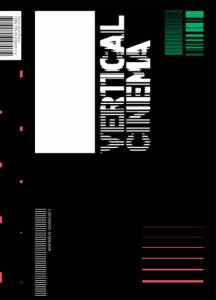 Vertical Cinema
Kontraste Cahier #3
Edited by Mirna Belina & Sonic Acts, Amsterdam
Designed by Bitcaves
80 pp., full colour, illustrated, English text
Sonic Acts Press 2013
ISBN: 978-90-810470-7-4
'You hear it everywhere: Cinema is tipping over – its epic and dramatic forms are spilling over into television, avant-garde and experimental films have fled to the galleries, and all the images that once belonged to it are now available everywhere, anytime. At the Austrian Film Museum, we tend to refrain from such sweeping and simple-minded swan songs. For this very reason, we are honoured to participate in Vertical Cinema – a project committed to taking one step at a time. Instead of trying to tip cinema in its entirety into the digital netherworld, this project is content with just tipping the screen – observing how an artform changes if you respectfully chafe at its edges.'
– Alexander Horwath, Director of the Austrian Film Museum
Vertical Cinema is a unique project featuring a series of ten commissioned vertical films made in 2013 by internationally renowned experimental filmmakers and audiovisual artists.
This monumental screening of their 35 mm vertical cinemascope films premieres at the 2013 edition of the Kontraste Dark As Light Festival, where Kontraste Cahier #3 will be presented as well.
It includes texts about the works by the participants in the project: Joost Rekveld, Tina Frank, Björn Kämmerer, Gert-Jan Prins & Martijn van Boven, Manuel Knapp, Johann Lurf, Rosa Menkman, Billy Roisz & Dieter Kova?i?, Makino Takashi & Telcosystems and Esther Urlus.
The cahier also features an extensive introduction to the rich history of expanded and exploded cinema, by professor, curator and author Timothy Druckrey (US), who guides us through the mutations of the burgeoning moving image, fuelled by the technological growth of the medium over the last 50 years.
Vertical Cinema is the third Kontraste Cahier in a series edited by Sonic Acts. It is published on the occasion of the 2013 Kontraste Festival, Dark As Light, 10–13 October, Krems, Austria, curated by Sonic Acts and produced by Kontraste.
€ 7,-
Order here
0 Comments
RSS for comments on this post.
leave a comment